Fried semolina-crusted aubergines with honey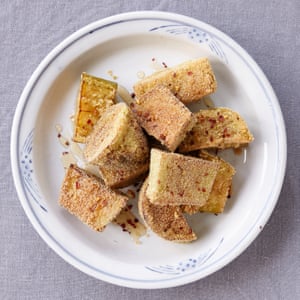 Prep 5 min
Cook 20 min
Serves 4–6
3 large aubergines
Vegetable oil, for frying
200ml milk
6 tbsp semolina
Sea salt flakes, crushed
75ml clear honey
Pul biber (Turkish chilli flakes), to serve (optional)
Peel the aubergines and cut them into 3.5cm-thick discs. Cut each slice into pieces about 5cm or so in length. Shape variation doesn't matter and neither does size inconsistency – just make the pieces roughly around the same size, so they cook at the same pace.
Pour about 5cm vegetable oil into a large, deep frying pan or wok (or a saucepan, if, like me, you prefer to contain oil splatter) and heat the oil on high until hot.
Pour the milk into a small bowl. Tip the semolina on to a small plate and season well with crushed salt. Dip the aubergine pieces into the milk, then shake off any excess and roll the pieces in the seasoned semolina.
Cooking in batches, put the coated aubergine pieces into the hot oil and fry for about a minute, then turn and fry until all the sides are nice and brown and the flesh is cooked through.
Drain on a tray or plate lined with kitchen paper to soak up excess oil. Repeat with subsequent batches. Serve with a good drizzle of clear honey and a sprinkling of pul biber chilli flakes, if you like.