Yotam Ottolenghi's picnic recipes
We've had a record number of picnic-worthy days so far this year, which, in theory, would mean hours of lying about in gardens and parks, were it not for all the thunderstorms that broke our sunny harmony. I'm happy to admit that I find picnics a bit of an inconvenience, so welcome any excuse to decamp back to the comfort of my dining table. But whether you're sitting on a blanket or a chair, picnic food can be as versatile as you need it to be.
Giant couscous with golden raisins, lemon and almonds (pictured above)
This is just as good eaten at room temperature as it is warm. It's an ideal portable meal, because it can be made well in advance, it's easy to transport and it will keep for hours.
Prep 10 min 
Cook 25 min
Serves 4
250g giant couscous 
500ml vegetable stock
Salt and black pepper
1 lemon
½ tbsp olive oil
50g golden (or normal) raisins
1 tsp cumin seeds, toasted and ground in a mortar
60g flaked almonds, toasted
10g dill leaves, roughly chopped
10g basil leaves, roughly torn
For the parsley oil
30g parsley leaves
120ml olive oil
1 small garlic clove, peeled
Put the couscous in a medium saucepan for which you have a lid, and dry toast, stirring occasionally, over a medium-high heat until some of the pearls begin to colour – about four minutes. Add the stock and a half-teaspoon of salt, bring to a boil, then cover and turn the heat to low. Cook for 10 minutes, until all the liquid is absorbed, then turn off the heat and leave the couscous to sit, covered, for 10 minutes more.
Meanwhile, finely grate the lemon peel into a small bowl – you should have two teaspoons of zest. Using a small, sharp knife, trim the top and tail off the zested lemon, then cut away the skin and pith. Release the lemon segments by cutting between the membranes, then cut each segment into rough chunks and add to the zest bowl with any remaining juice squeezed from what's left of the lemon – you need about a teaspoon. After the couscous has rested, stir in the lemon mix and the oil.
Put the raisins in a bowl, cover with about 100ml boiling water, leave to soak for five minutes, then drain. Mix the raisins, cumin, almonds, herbs, a quarter-teaspoon of salt and a good grind of black pepper into the couscous.
Put all the ingredients for the parsley oil in a blender with an eighth of a teaspoon of salt and blitz until smooth.
Pack the couscous into a portable container and spoon the oil on top (though, if you're serving this at the table, spoon on the oil just before you eat).
Grilled and marinated sandwich vegetables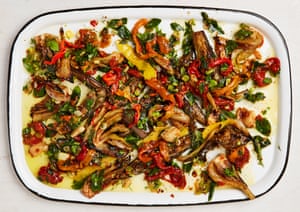 I call these sandwich vegetables because, in my ideal world, they'd be stuffed into a roll with salami and pecorino, but they'd also work in a salad or as antipasti. If you have any of the aromatic oil left over, it's great on pasta and salad.
Prep 15 min
Cook 1 hr 
Serves 4
1 medium fennel bulb
200ml olive oil
Salt and black pepper
240g baby aubergines, trimmed and quartered (or 1 regular aubergine, cut into 10cm x 2cm wedges)
5 multicoloured Romano peppers
2 large mild red chillies
1 garlic bulb, top fifth trimmed to expose the bulbs 
1 lemon – skin finely shaved of in 6 strips, then juiced, to get 2 tbsp
10g oregano 
2-3 spring onions, finely sliced
5g dill, roughly chopped
½ tbsp coriander seeds, toasted and crushed
½ tbsp pink peppercorns, toasted and crushed
Heat the grill to its highest setting and put a rack at the top of the oven. Cut the fennel in half lengthways and then into 1.5cm-thick batons, keeping some base attached, so the pieces hold together. Gently toss the fennel in a teaspoon of oil and a good pinch of salt, then lay out on a large oven tray.
Toss the aubergines in a teaspoon of oil and a good pinch of salt, and lay cut side up on the same tray. Grill for 12 minutes, until well charred, then transfer the aubergines to a large bowl. Turn over the fennel pieces, grill for another six minutes, then add to the aubergine bowl.
Turn off the grill and set the oven to 220C/425F/gas 7. Put the peppers and chillies on an oven tray lined with baking paper. Drizzle a little oil over the garlic bulb, sprinkle with salt and pepper, then wrap tightly in foil and add to the pepper tray. Roast for 25 minutes, turning halfway, until the peppers are blackening on both sides. Remove the peppers and chillies, and roast the garlic for 10 minutes more.
Put the peppers and chillies in a bowl, cover tightly with clingfilm, leave for 30 minutes, then peel off the skin, discarding the seeds, stalks and any liquid. Tear the peppers into 8cm strips, roughly chop the chillies and put both in the fennel bowl.
When cool enough to handle, unwrap the garlic and squeeze out the flesh into the fennel bowl. Add the remaining oil, the last six ingredients, half a teaspoon of salt and a good grind of pepper, and mix gently to coat. Ideally, leave .